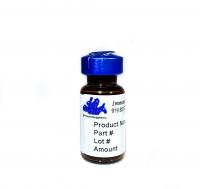 Downloads
Safety Data Sheet

Specification Sheets
Price:

$44.41

Part Number:

Mu-003-N

Concentration:

1 mg/ml (E 1% at 280 nm = 14.0)

Amount:

1.0 mg

Conjugate:

Unconjugated

Form:

Liquid, 0.2 µm filtered

Purification:

Protein A

Purity:

> 95% based on SDS-PAGE

Host:

Mouse

Buffer:

10 mM Sodium Phosphate, 0.15 M Sodium Chloride, pH 7.2

Preservative:

0.05% (w/v) Sodium Azide

Storage:

2-8 °C

Country of Origin:

Normal Mouse Serum was obtained from healthy animals of Chinese origin.

Applications:

Disclaimer:

For in vitro Laboratory Use Only. Not for diagnostic or therapeutic use. Not for human or animal consumption. Suggested applications of our products are not recommendations to use our products in violation of any patent or as a license under any patent of ImmunoReagents, Inc. Product may not be resold or modified for resale without prior written approval of ImmunoReagents, Inc.