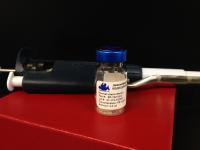 Downloads
Safety Data Sheet
Contact Us
Specification Sheets
Price:

$46.75

Part Number:

SP-132-VX2

Concentration:

60.0 mg/ml (Bradford, IgG standards)

Amount:

2.0 ml

Form:

Lyophilized

Purification:

Lipid extracted and dialyzed against 10 mM Sodium Phosphate, 0.15 M Sodium Chloride, pH 7.2

Buffer:

10 mM Sodium Phosphate, 0.15 M Sodium Chloride, pH 7.2

Reconstitution:

Rehydrate with 2.2 ml of deionized water. (Product has been overfilled to ensure complete recovery)  Swirl gentle and let stand for up to 2 hours at 18-25 °C.  Centrifuge reconstituted serum to remove any precipitates.

Storage:

Store lyophilized material at 2-8 °C. For long term storage after reconstitution, prepare small aliquots and store at -20 °C . For storage at 2-8 °C, add a preservative to prevent growth of bacteria.

Specificity:

Non-immune

Country of Origin:

Normal Llama Serum was obtained from healthy animals of US origin and under the care of a registered veterinarian.

Applications:

Protocol and Manual:

Disclaimer:

For in vitro Laboratory Use Only. Not for diagnostic or therapeutic use. Not for human or animal consumption. Suggested applications of our products are not recommendations to use our products in violation of any patent or as a license under any patent of ImmunoReagents, Inc. Product may not be resold or modified for resale without prior written approval of ImmunoReagents, Inc.