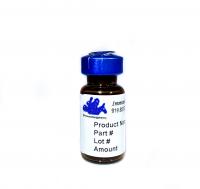 Downloads
Safety Data Sheet
Contact Us
Specification Sheets
Price:

$273.00

Part Number:

PAR-200-IL1B

Concentration:

n/a

Amount:

100 µg

Conjugate:

Unconjugated

Form:

Lyophilized

Purification:

Protein A

Host:

Rabbit

Immunogen:

Mouse IL-1β

Buffer:

0.02 M Potassium Phosphate, 0.15 M Sodium Chloride, pH 7.2 with no stabilizers or preservatives

Reconstitution:

Rehydrate with 1.1 ml of deionized water and let stand 30 minutes at room temperature to dissolve. (Product has been overfilled to ensure complete recovery.) Centrifuge to remove any particulates. Prepare fresh working dilution daily.

Storage:

Store at 2-8°C after restoration with 0.1mL deionized water or -20°C for long term storage, avoid repeat freeze thaws.

Shelf Life:

5 years

Specificity:

Mouse IL-1β

Cross Reactivity:

The antibody does not recognize human or primate IL-1ß or mouse IL-1α but does cross react with rat IL-1β. Anti-Mouse IL-1ß has been tested for use in neutralizations, ELISA, radioimmunoassays, flow cytometry, immunohistochemistry, immunoblotting and immunoprecipitation. For immunoblots, typically, IL-1ß is detected from supernatants or lysates of 2 x 106 endotoxin-stimulated peripheral blood mononuclear cells (PBMC). PBMC are stimulated for 24 hours with 1% (v/v) serum plus 10 ng/mL E.coli LPS.

Country of Origin:

US Origin

Applications:

Disclaimer:

For in vitro Laboratory Use Only. Not for diagnostic or therapeutic use. Not for human or animal consumption. Suggested applications of our products are not recommendations to use our products in violation of any patent or as a license under any patent of ImmunoReagents, Inc. Product may not be resold or modified for resale without prior written approval of ImmunoReagents, Inc.