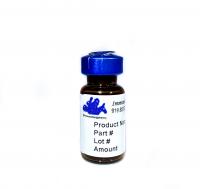 Downloads
Safety Data Sheet
Contact Us
Specification Sheets
Price:

$273.00

Part Number:

MAB-200-P28

Concentration:

0.5 mg/mL solution

Amount:

100 µg

Conjugate:

Unconjugated

Form:

0.5 mg/mL solution

Purification:

Protein A

Host:

Mouse

Immunogen:

Interleukin-27 p28 Subunit

Buffer:

0.02 M Potassium Phosphate, 0.15 M Sodium Chloride, pH 7.2 with no stabilizers or preservatives

Storage:

Store at 2-8°C for use within 1-3 weeks or -20°C for long term storage, avoid repeat freeze thaws.

Shelf Life:

5 years

Specificity:

Interleukin-27 p28 Subunit

Cross Reactivity:

The p28 subunit of IL-27 (IL-27/p28), also known as Interleukin-30 (IL-30), is a member of the IL-12 family of cytokines.  When combined with EBI3 (Epstein-Barr virus induced gene 3), p28 forms a heterodimer known as IL-27.  p28 is thought to be a pro-inflammatory cytokine inducing immuno-modulatory effects, but the details of these effects are currently unclear and research is focused on delineating its specific biological functions. 

Country of Origin:

US Origin

Applications:

Disclaimer:

For in vitro Laboratory Use Only. Not for diagnostic or therapeutic use. Not for human or animal consumption. Suggested applications of our products are not recommendations to use our products in violation of any patent or as a license under any patent of ImmunoReagents, Inc. Product may not be resold or modified for resale without prior written approval of ImmunoReagents, Inc.